On a visit to Madrid, it's really easy to fall into the well-trodden paths. While the Royal Palace, the Prado and Retiro are all excellent places to visit, shuffling along with the crowds of tourists, you can feel as if you're being force-fed a cookie-cutter experience that lacks any authentic flavor. But never fear, nine times out of ten, simply diving down a side street will get you off the beaten track. As I've spent ten years exploring these winding alleyways, I've decided to make an itinerary that includes many of my favorite secret corners of Madrid. So if you've been to Madrid before and want to see a side most tourists don't get to experience, this guide will help you to squeeze the most out of a day in Madrid.
Madrid off the beaten track: one-day itinerary
Breakfast out in Plaza de las Comendadoras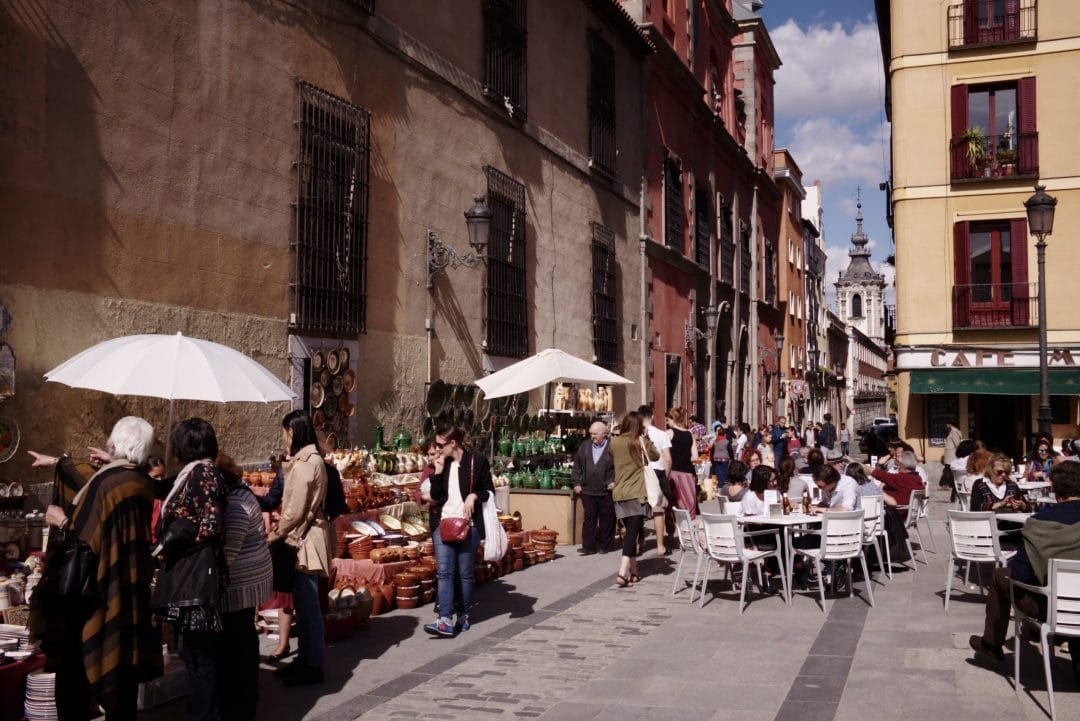 Plaza de las Comendadoras is a delightful square in a quiet corner of Malasaña. So for me, a perfect day out begins here enjoying an outdoor breakfast on a terraza. Café Moderno does a bargain deal of tomato on toast with café con leche for under three euros. As service here is at the typical Spanish snail's pace, if you're in a hurry and have a refined taste in coffee – personally I love the much-maligned torrefacto – head across the square to Federal.
Wander round Conde Duque

Former army barracks Conde Duque is now an arts center and home to a fantastic little contemporary art museum that barely anyone ever enters. I particularly like peering into the reconstruction of writer Ramón Gómez de la Serna's office, which is a real cabinet of curiosities. Even better, across the road on Plaza Guardia de Corps, you'll find a fantastic photography gallery called Blanca Berlín that hosts PhotoEspaña exhibitions during Madrid's annual photography festival.
Check out some historic ceramic art
Just five minutes walk through the narrow streets of Malasaña and you'll get to Farmacia Juanse. This former pharmacy retains its original 1920s tiled facade complete with adverts for medicines long since past their sell-by-date. These are the work of Enrique Guijo, an artisan who led a revolution in Madrid's ceramic tile art. He's also responsible for the tiled facade of the huevería, or egg shop round the corner, which is now a bar. Incidentally, hueverías run by farmers still exist in the suburbs and if you ever see one open (they usually keep really weird hours), grab a dozen eggs: usually free range and often organic these will be the best eggs you've ever eaten!
Visit 17th-century Madrid

Next nip into the Museum of Madrid and go see Teixera's enormous 17th-century map of Madrid. Incredibly, some streets and squares, like Sol, Plaza Mayor and Calle de Atocha still exist to this day. A glimpse back in time, you can also see landmarks that have long vanished such as the Alcazar and the Palace in Retiro. You'll often find Madrileños standing in front of it pointing out differences and similarities. So why not strike up a conversation with a local to find out how the city has evolved?
Lunch by a haunted house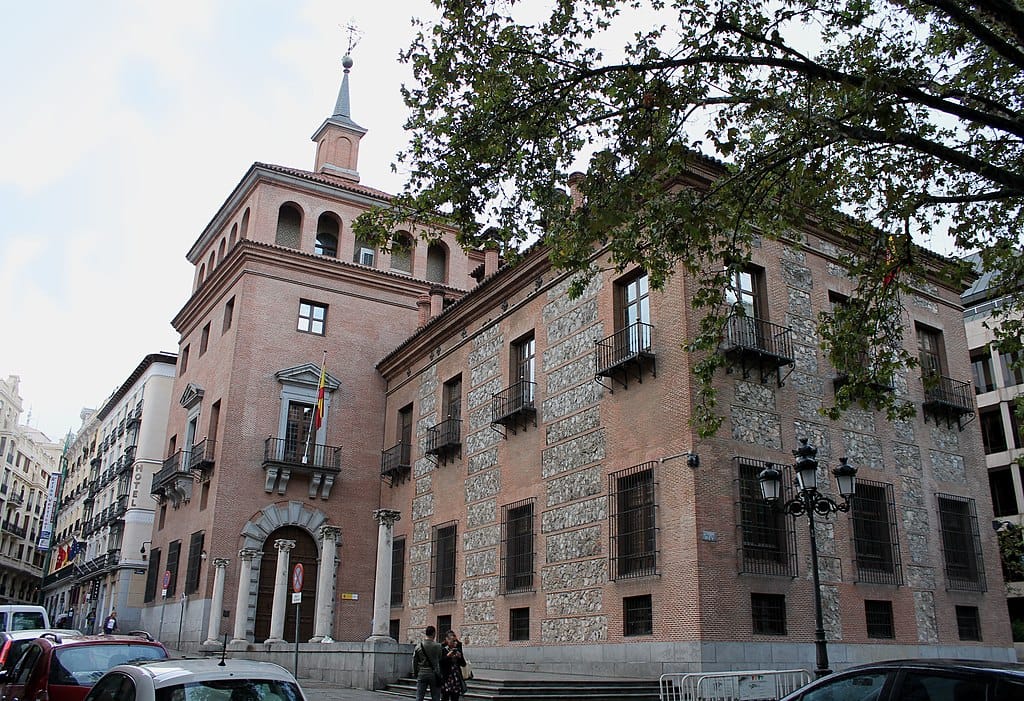 Before you leave the museum see if you can spot your next destination on the Teixera map. The Casa de Los Siete Chimeneas or House of the Seven Chimneys was built in 1577 and has a chilling tale attached to it that involves the Spanish royal family. The journey there will take you past one of Madrid's most generous tapas bars. What Tigre del Norte lacks in finesse it really makes up for in generosity and those of you on a budget can really fill up simply by ordering a beer and chowing down on a plate piled high with calorific junk! However, if you aren't strapped for cash, I'd recommend getting a sit-down lunch at the terraza of Revoltosa Plaza del Rey which enjoys views of the Casa de Los Siete Chimenias and does a mean menu del día (set lunch) Mondays to Thursdays.
Chill out in CentroCentro

Whether you've opted for the giant-sized tapas or the set menu, by now you'll need to go somewhere quiet to digest. Time for my next secret tip about central Madrid: CentroCentro. Besides the rooftop views it affords of the city and a chilled-out cafe, Madrid's old post office hosts tons of exhibitions, so check out the program at the tourist desk.
Set sail at the Museo Naval

Right on the Paseo del Prado, yet often overlooked, is the fabulous Museo Naval. An absolute treat for the nautical enthusiast, this place charts Spain's naval history from Columbus' first voyage to the present day. Golden compasses, model galleons, maps, and much more can be viewed free of charge, though they do request a small contribution of three euros.
Sneak into Lope de Vega's garden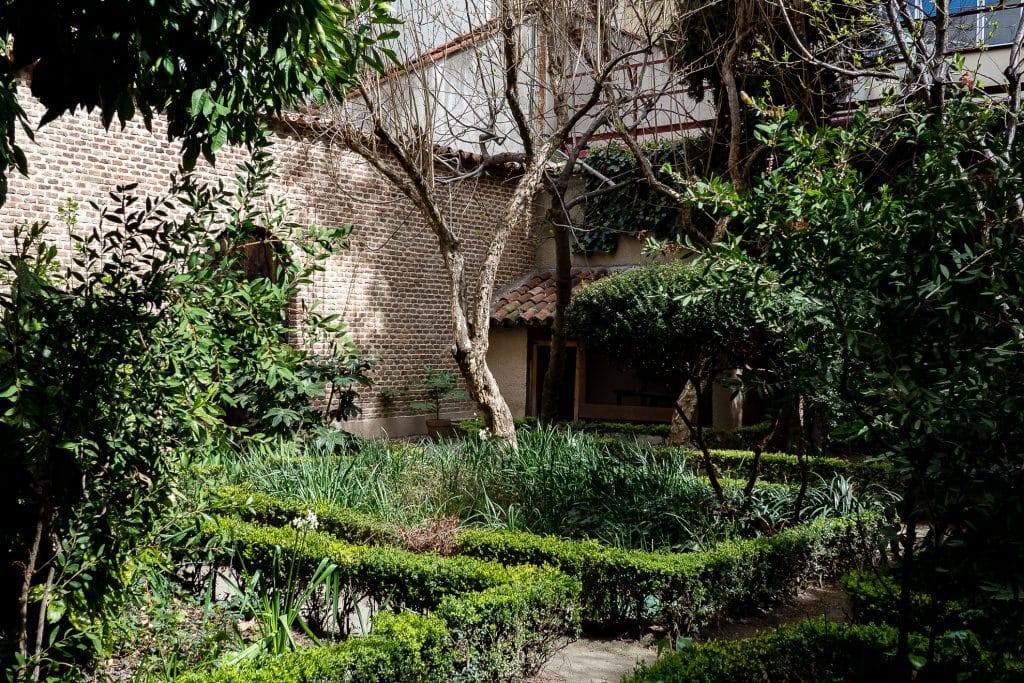 Heading up into Barrio de las Letras, Spain's literary quarter, take a moment to visit Lope de Vega's house. This museum is free of charge but you will need to book a tour in advance. If you've been unable to do so, you can still pop out the back and take a breather on a bench. One of Madrid's best-kept secrets, the 17th-century playwright's charming garden is filled with fruit trees and box hedges.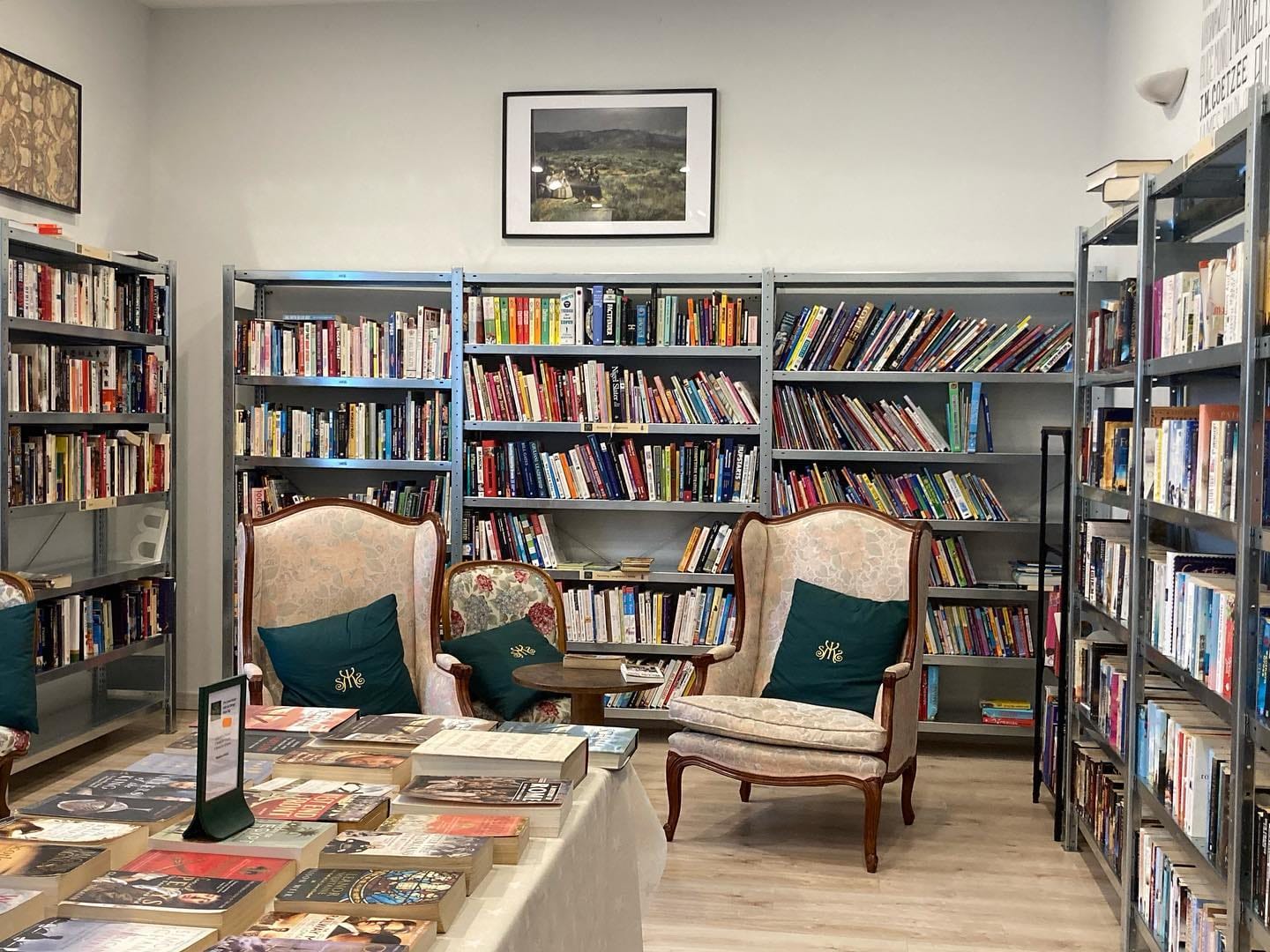 This new bookshop is also in the literary district. The owner, David Price is an extremely agreeable chap and encourages punters to help themselves to coffee (and if you're lucky a bikkie) in the lounge area out back while they peruse his stock of second-hand and new English books. He's really knowledgeable about the area and will be happy to let you in on some local secrets if you ask him nicely! The store also hosts regular literary events, which are well worth attending.
Eat dinner at Mercado Antón Martín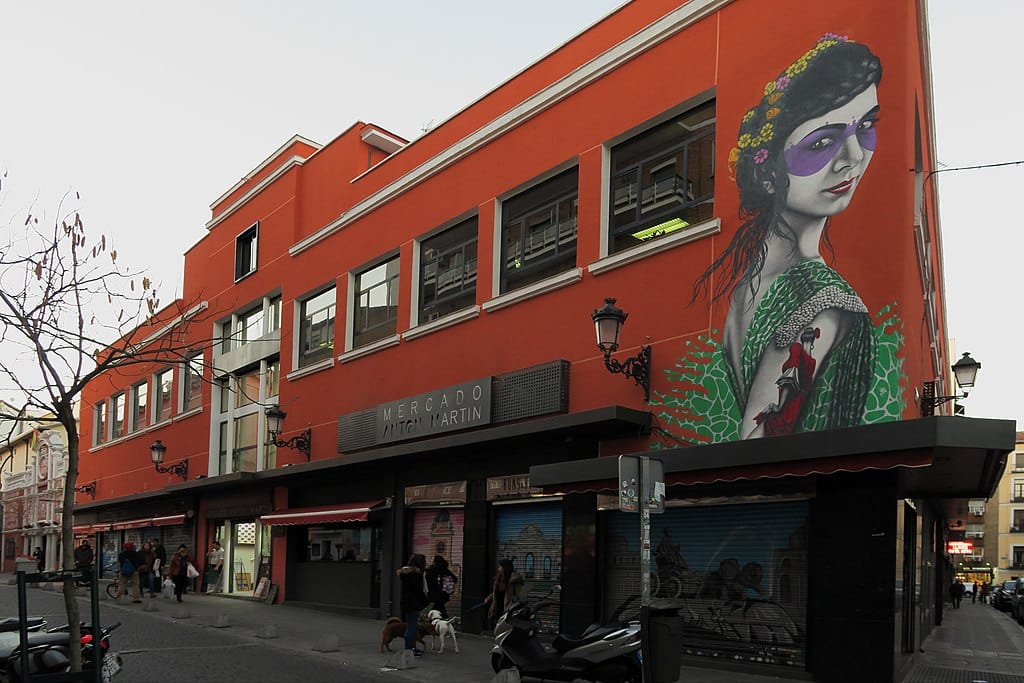 Just across the Calle de Atocha in Lavapiés is the wonderful Mercado Antón Martín. The best of Madrid's markets, it has been gently gentrified without losing its traditional character. Part of a recent wave of revitalized municipal markets, many stalls have been converted into innovative restaurants. If you want to eat spectacular Spanish food check out Doppelgänger Bar or Sincio. However, having lived in Malaysia, I tend to gravitate towards Asian Army, which regularly satiates my cravings for spicy South East Asian food!
Catch a movie at Cine Dore or Sala Equis

Right next door is Cine Doré, a 1920s cinema restored to its former glory. Run by the state, the program is strictly arty and tickets are dirt cheap at three euros. If nothing tickles your fancy, the incredible Sala Equis is just down the road. Another art cinema, this one used to show X-rated movies before being transformed into a paradise for punters more inclined to sport man buns than dirty raincoats.
Go for late-night drinks at Cuevas de Sesamo

While you could easily stay at either cinema and enjoy drinks in their fabulous bars (Sala Equis opens till 1am), if you want to take a walk of Madrid's weirder side, head to Cuevas de Sesamo. Located in an underground cave, this bar used to be a secret meeting spot for Spain's literati at the height of Franco's regime. Though Hemingway and Eva Gardner are both said to have frequented this joint, any trace of glamour has been thoroughly wiped away by the following years. Rather damp with mold visibly crawling down the walls, it's become a paradise for young folks looking for a cheap night out. The flaking paint and ancient piano lend it a certain fin de siecle charm.
Let me show you Madrid off the beaten track
If you enjoyed this article and want to discover more about Madrid, how about booking me for a customized private tour of the city? Besides writing this blog, I'm also the author of the new Madrid chapters for Lonely Planet's upcoming guide to Spain and am a mine of information about the city. Get in touch to discuss prices.