A Peek Inside Banco de España
A Peek Inside Banco de España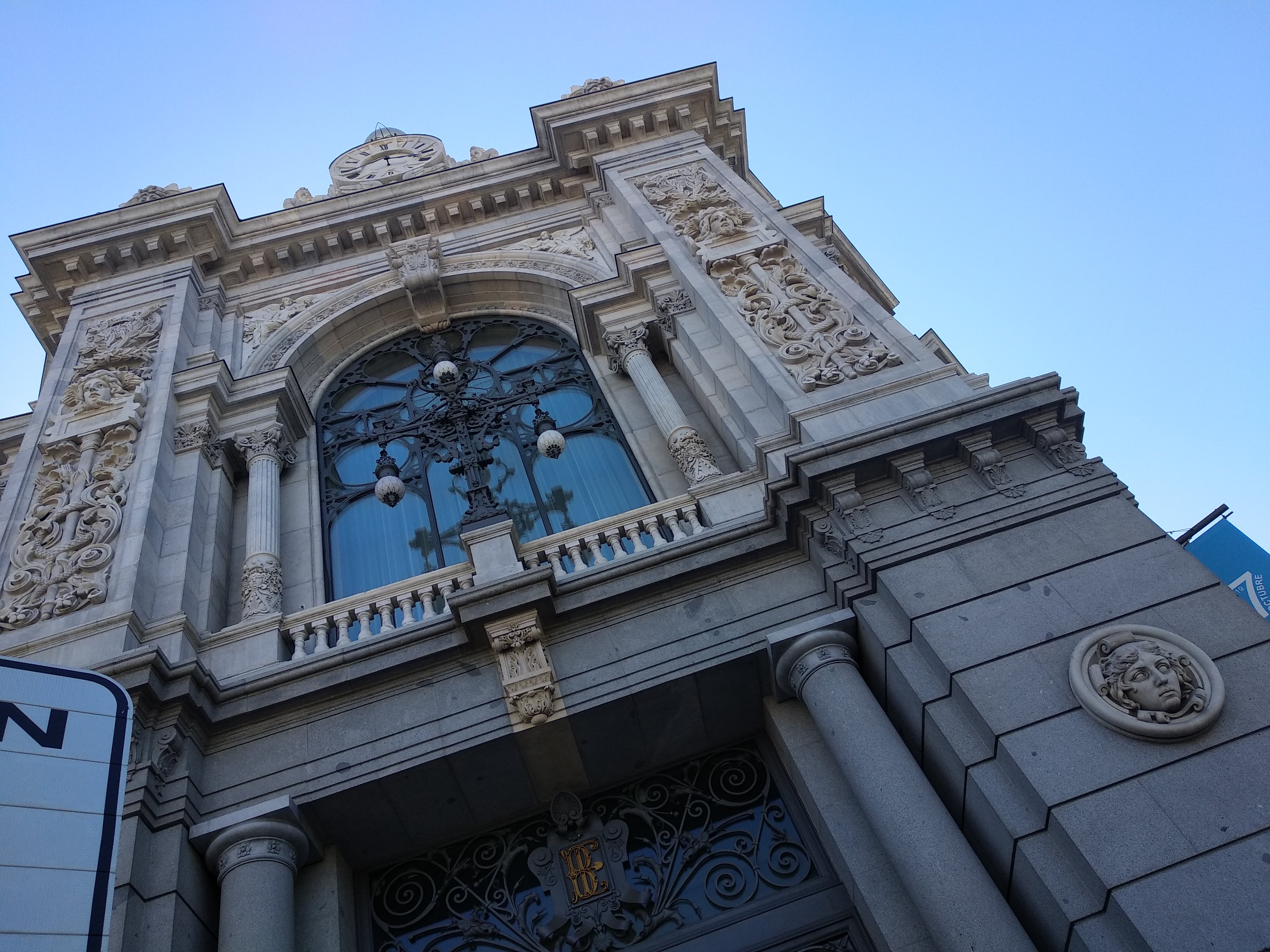 Dominating Cibeles, the Banco de España, with its imposing wrought iron doorways and gorgeous masonry, is one of Madrid's most impressive buildings. But, being home to the country's huge gold reserves, visits inside are strictly supervised and incredibly scarce. For most of us mere mortals, the only opportunity to penetrate this behemoth comes once a year during Madrid Architecture Week, when visits to some of the city's finest buildings are available to book online. As Banco de España is one of the hottest tickets, places go in minutes, but I was lucky enough to snag one, so if you're curious, or fancy visiting in 2020, here's a quick summary of my visit:
After going through a very vigorous security check, our group was chivied by Madrid Architecture Week volunteers and a security guard – who followed us stony-faced during the entire tour opening and closing doors with a huge set of keys – to a huge model of the entire building. Here our guides gave us a brief summary of the history of the bank.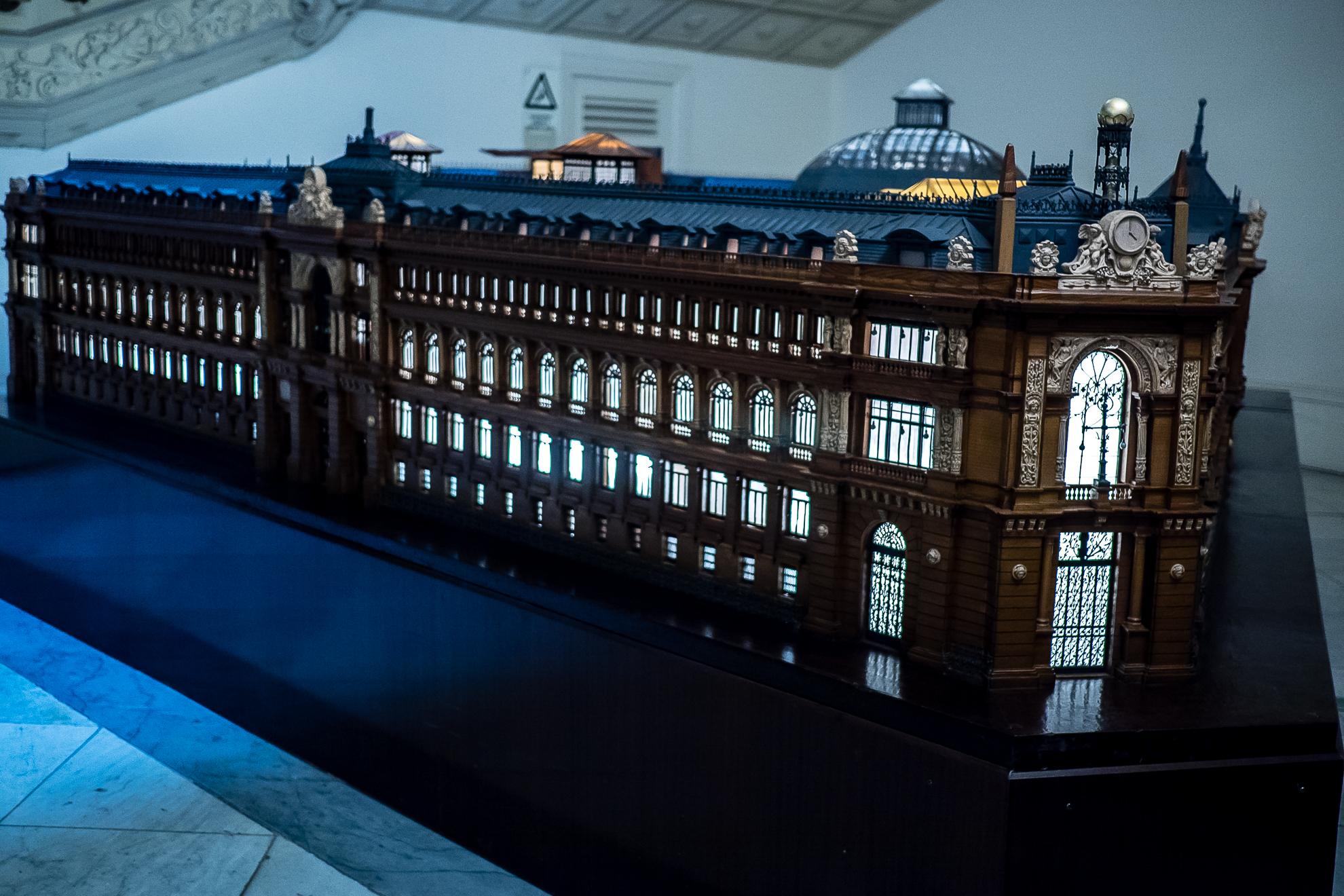 With the aim in mind of stabilising government finances by issuing state bonds (for an insight into why Spain was having financial difficulties at this point, check out this post on Spanish gold), the institution was founded as the Bank of San Carlos by Charles III in 1782 . A name change and merger with the struggling Bank of Isabel II led to the creation of the Banco de España proper in 1856. At this point the bank was housed at the Casa de Cinco Gremios (House of the Five Guilds), but having been granted the right to print money in 1874, newer, more spacious quarters were needed.
The bank's architects Sainz de la Lastra and Adaro were put in charge of the design and construction began in 1884 with the official opening taking place on 3 March 1891. Interestingly, it wasn't only designed as a place of work; there were also apartments in the attic for bank staff and members of guilds to live in, the latter group continuing to reside within the bank right up until the 1960s!
However, at this point, the building we know today was far from complete. Three more extensions would have to be carried out until it found its current form. The first, constructed between 1932 and 1936, designed by José Yarnoz Larrosa, was along the Calle Alcala. Larrosa, while keeping the appearance of the facade in line with the one running along Paseo del Prado, did add the coat of arms of the Second Republic, an addition that must have stuck in the throat of Franco in later years.
It was during this period, too, that the bank's famous vault was constructed. Built to keep vast stores of gold safe, the vault is located 48 meters underground and is designed to flood if any intruder tries to break through its security doors (I'm told by fans of Casa de Papel that this feature has recently become a plot point in the series). Though the alarms have never gone off, Franco claimed that the gold reserves were actually plundered when the Soviet Union took 72.6% of it during the Civil War. However, this Moscow Gold is controversial, many pointing out that the gold was most likely not transferred for safekeeping, but was rather payment for arms and other assistance during the war.
In 1969, during Franco's rule more work was done, however, it wasn't until 2006 that the finishing touches were complete, bringing the total square meterage up to a whopping 4,736! Of course, our visit wasn't able to cover half that, but we did get a look at some of the bank's most gorgeous interiors, starting with the "Staircase of Honor," the centerpiece of the original building, an enormous marble affair lined with pillars and stained glass windows depicting Mercury, the god of trade and commerce, a motif that was to reappear time and again throughout.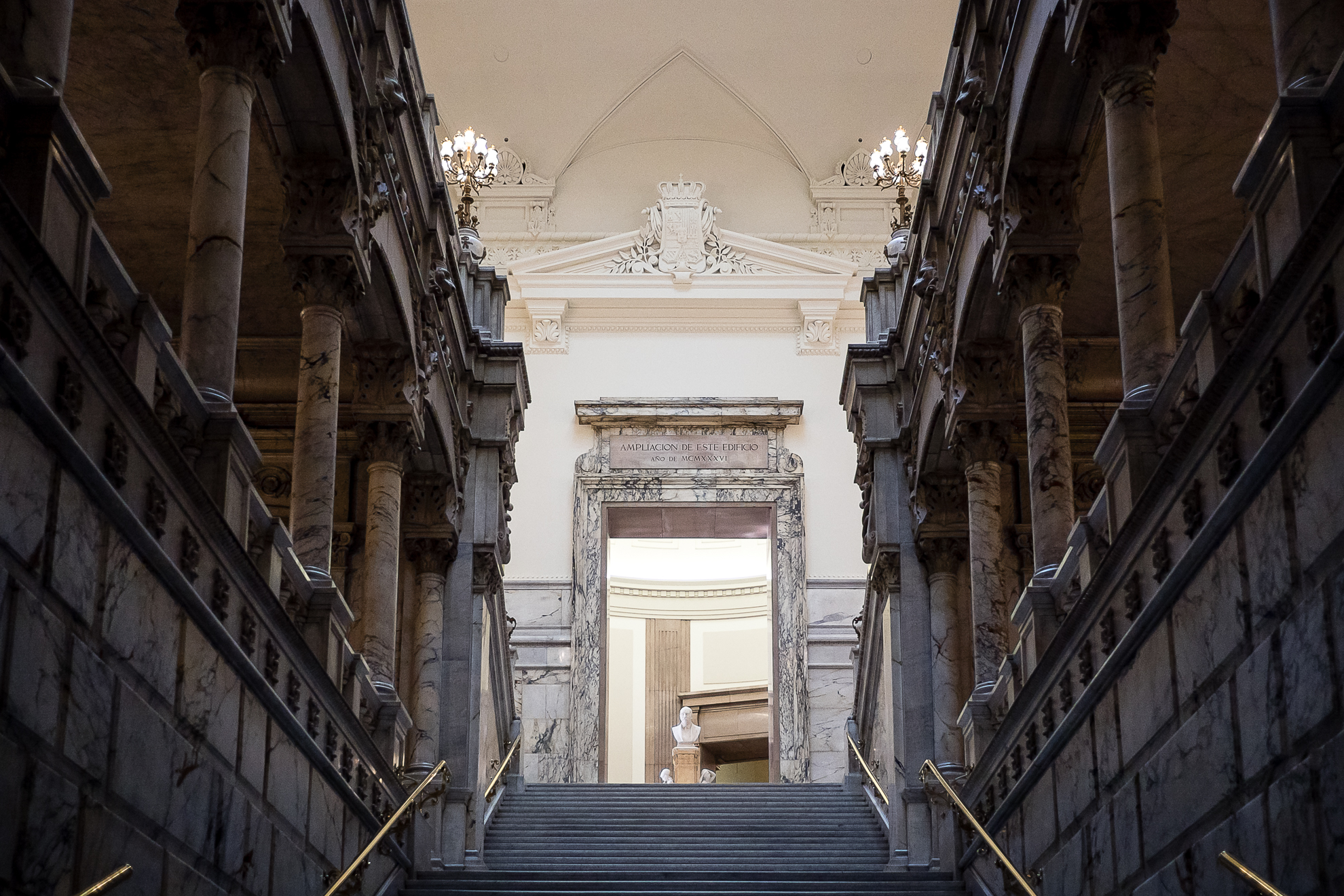 The aforementioned grand staircase led into the "new" 1930s part of the building, a circular room that houses toilets for "señores" and "señoritas" only, our guide explaining that back in these less enlightened times, women were not expected to work after marriage, the bank's only female employees being young and single!
Sadly, we weren't allowed to take photos of this part of the tour, neither could we snap pics of the next spot on the itinerary; the bank's gorgeous library. A wrought-iron neo-mudéjar patio covered with a stained glass roof, this part of the building truly took our collective breaths away. And I've got some good news for those of you who fancy taking a look: this library is open to anyone who wishes to use its resources, though I'm assuming a demonstrable interest in economics is mandatory.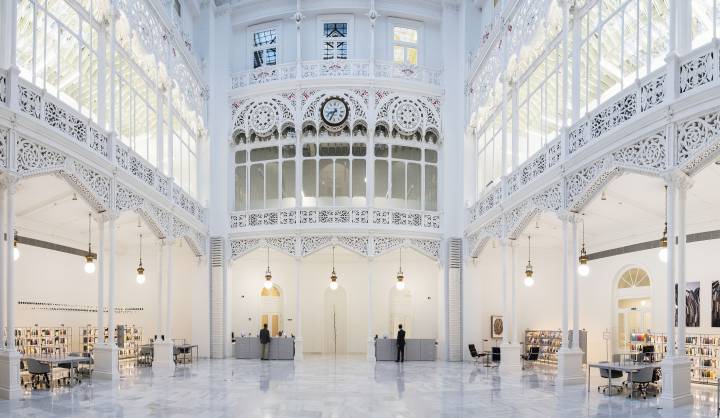 After leaving the library, we were ushered towards another of the bank's great treasures: its collection of Goya etchings and portraits, one of which was a rather unflattering depiction of Charles III, the bank's founder, looking surprisingly red faced and doddery! The bank has a massive art collection of over 5,000 works that besides the Goyas, includes a huge amount of contemporary artwork. At the time of writing, work on creating a gallery space where visitors can view a selection of this collection is underway.
If you can't wait for the new gallery to open or don't feel up to blagging yourself a library card, there's one part of the building that I was surprised to hear is always open to the public and I have to say that this was, architecturally speaking, the most impressive part of the tour.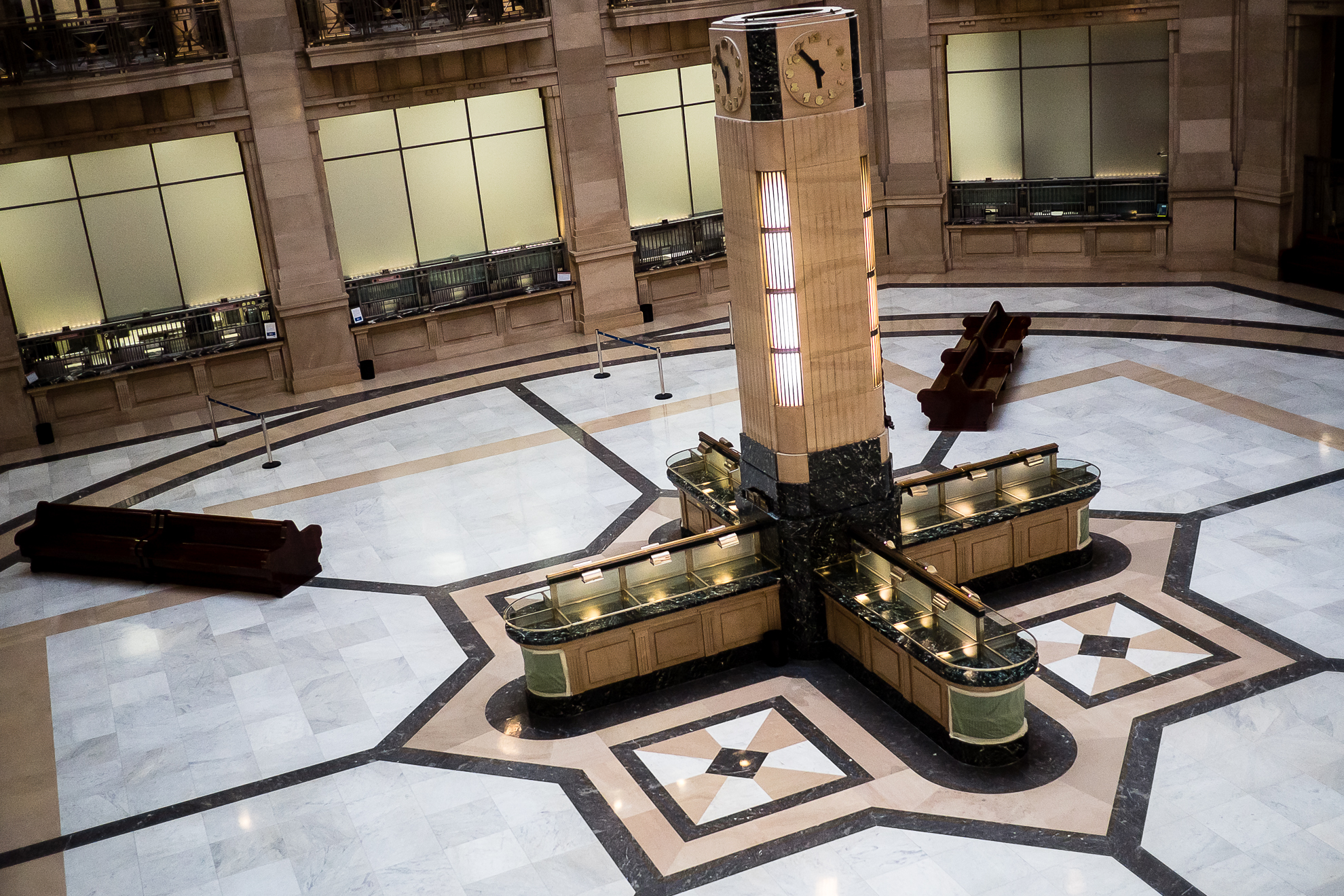 The Patio de Operaciones is an Art Deco gem created in the 1930s. Particularly outstanding is the stained glass ceiling, a masterpiece of its time that pays tribute to the working man and has the Second Republic's coat of arms at its centre. We were told that shortly after it was put up, it had to be taken down during the bombardment of Madrid and didn't go back up again until the 1970s. It still isn't known if Franco allowed it to be reassembled during his lifetime, but, being as it's a celebration of the values of an ideology entirely opposed to his, it's unlikely that he did.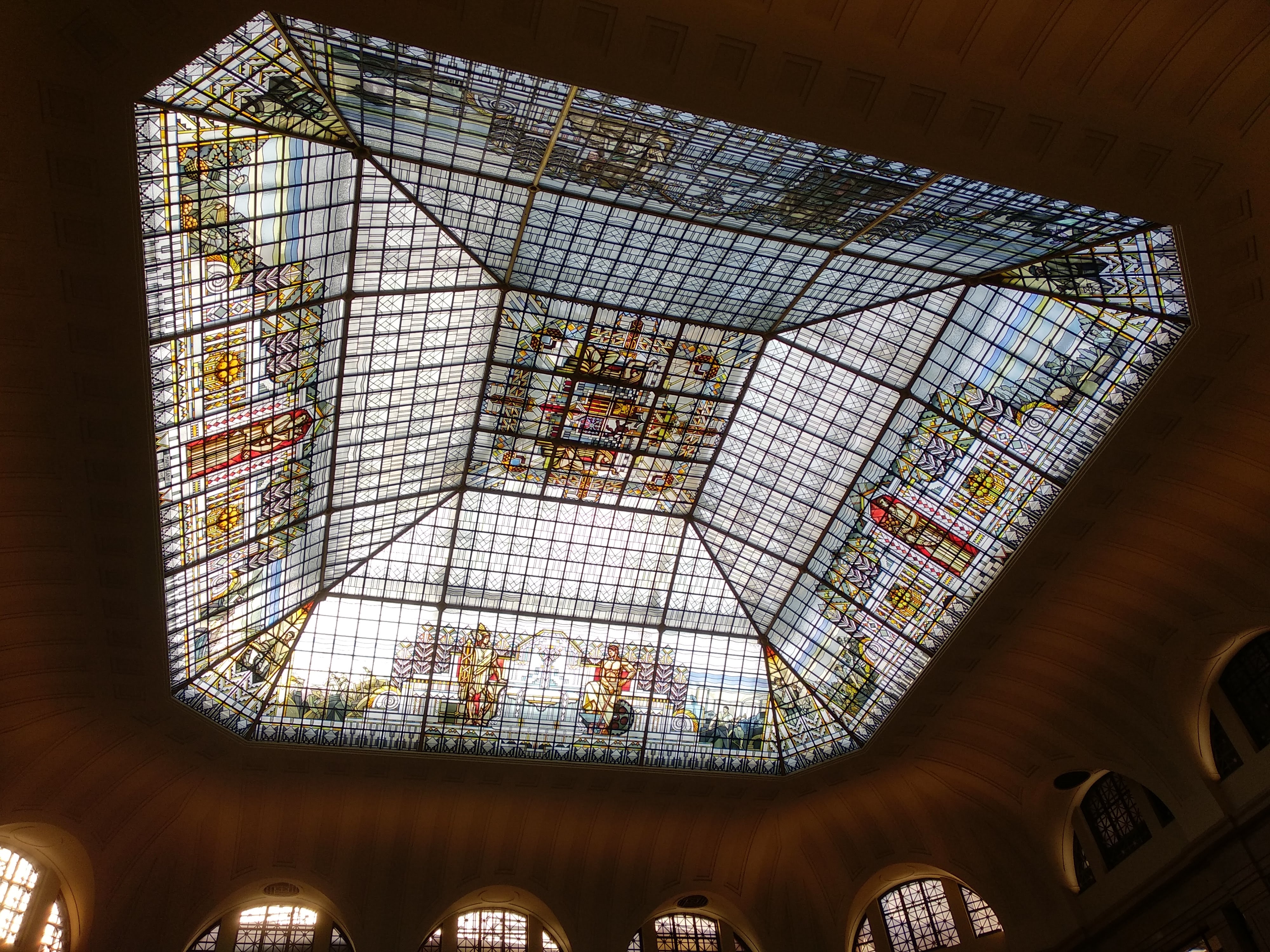 As I mentioned, you can visit the bank as a customer during working hours to get a peek at the ceiling, so, if you have any pesetas stashed away that need changing into euros, now's your chance!
While I can't offer access to inside Banco de España, I am well acquainted with many hidden corners of Madrid, so if you're looking for a tour guide, I'm your gal!