A brief crawl around Madrid's most historic bars
A brief crawl around Madrid's most historic bars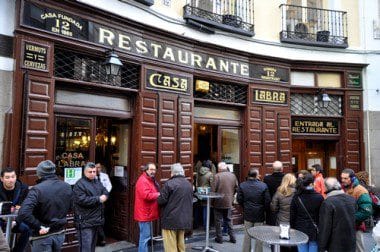 There are some bars that, rather than advertise their existence, seem to actively discourage new clientele. As soon as you walk through the door you feel like Luke Skywalker walking into the Cantina on Tatooine; the music stops, the patrons turn to give you withering looks and the bar tender ignores you when you try to order a drink. Back in the late 1800s, Casa Labra was just such a place. The innocuous botilleria was host to a group set on forming Spain's socialist party; an act which at the time was considered by the moneyed classes to be tantamount to a political conspiracy.
The secret meeting took place upstairs on May 2 1879 and sought to address the shameless exploitation of the working classes by capitalist bosses. Many of those gathered were – like my own socialist grandfather – print-shop workers keen to campaign for the right to strike. A leader was appointed: Pablo Iglesias, then the president of the typesetters union, a figure who managed to stay in power until his death in 1925. Though the party was outlawed during Franco's reign, these days a plaque commemorating this clandestine meeting is mounted on the wall outside the bar and inside, you're free to raise a glass to the party that was partly instrumental in the formation of Spain's short-lived Second Republic.
Those with an interest in the following tumultuous period might like to next hit La Venecia, a sherry bar that was founded back in the 30s and has changed so little that its walls still retain the same dingy yellow sheen from cigarettes smoked by weary socialist soldiers fighting the good fight against Franco. The rules of the house remain unchanged: no photos – a measure then taken against spies but probably preserved to keep the selfie crowds out – and no tips (which according to The Culture Trip has something to do with the owner's socialist principles). Hemingway fans will be delighted to know that the great colossus of macho literature did frequent this bar when he was working as a journalist covering the Civil War in Madrid.
Our last bar was also frequented by writers and brave men of a different stripe. Founded in 1827 in the same building Cervantes once lived in, Casa Alberto was a firm favorite with bullfighters who would come to congratulate or commiserate with each other over a glass of vermouth. According to Expancion, it was also a meeting spot for pickpockets who, during the period of severe poverty that succeeded the Civil War would down a shot for courage before setting off on a purse snatching spree.
Keen to find out more about the history of Madrid? See another side of the city with one of my unique walking tours.